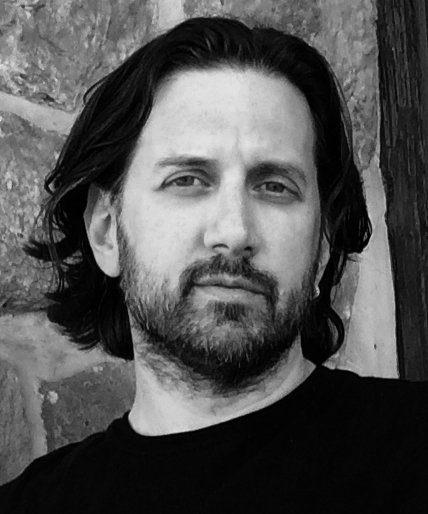 Francesco Levato is a poet, a new media artist, and a literary translator. He holds an MFA in Poetry and a PhD in English Studies, and his work often focuses on the creation, theorization, and interrogation of literature through multiple forms of digital media. He is interested in how the force of globalization in contemporary society marks boundaries beyond geopolitical borders, inscribing otherness on bodies simultaneously necessary to the functioning of society, while abjecting them as dangerous to the very fabric of that society. Examining the material aspects of the construction and representation of such globalized others is a concern central to both his research and his artistic practice.
In his current project, being developed into a critical videogame, he examines issues of power and its emplacement/location at geopolitical, cultural, and socioeconomic borders through U.S. policy. The work focuses specifically on the construction of Latin American otherness. It consists of a series of linked documentary poems composed of appropriated language from U.S. government documents, such as: Customs and Border Patrol handbooks; the Immigration and Nationality Act; State Department travel warnings and human rights reports for countries in Latin America; and materials from the Office of English Language Programs designed to instruct immigrants on assimilation into U.S. culture. Central to this work is an examination of the material aspects of power and representation in texts surrounding the embodied experience of others. He considers such texts material objects that have the capacity to affect an embodied subject both discursively and physically. For example, one such text used the project, the U.S. Customs and Border Protection's Use of Force Policy, Guidelines and Procedures Handbook, discursively constructs a criminalized other while authorizing physical harm to that other. The handbook defines subjects based on their level of resistance to a CBP officer and assigns material consequences to that definition, like being subjected to pepper spray or to "stunning techniques, takedowns, joint manipulations and use of an Electronic Control Weapon." The videogame examines such material consequences through narrative objects that are symbolic of, and directly linked to, the story of a Mexican national killed by Customs and Border Protection officers acting under those use of force guidelines. Physical objects like a Taser, riot baton, and handcuffs narrate the national's story when the player interacts with them. Textual objects like the Taser's U.S. patent, and the Use of Force Policy, Guidelines and Procedures Handbook itself, provide documentary background through player interaction. And visual objects, like actual wireless webcam footage from groups that monitor the border for migrant crossings, and Department of Homeland Security public service announcements warning migrants against trying to enter the U.S. undocumented, represent the state of constant surveillance surrounding such stories.
Levato is the creator of the critical-creative videogame Semi-peripheral (3D), the critical multimedia performance Machines of Dissymmetry, and the experimental poetry films War Rug and Variations on Want. His recent books include Endless, Beautiful, Exact; Elegy for Dead Languages; War Rug, the book length documentary poem on which the film was based; Creaturing (as translator); and the chapbooks A Continuum of Force and jettison/collapse. He has collaborated and performed with various composers, including Philip Glass, and his film work been exhibited in galleries and featured at film festivals in Berlin, Chicago, New York, and elsewhere.
He founded and directs the Chicago School of Poetics, and has served as executive director of the Poetry Center of Chicago, vice president of the Guild Literary Complex, chair of the MMLA's permanent section, Creative Writing: Poetry, co-chair of the permanent section, Digital Humanities, and as an editor for various journals including Poetry International, Drunken Boat, the Atlanta Review, and Spoon River Poetry Review. In addition, Levato is an Assistant Professor of Literature & Writing Studies, specializing in digital literature, digital poetics, and critical/cultural theory, at California State University San Marcos.
About Levato's Work:
"Levato is himself an avant-garde poet whose work draws on cinematic and documentary techniques—in his own words, "engages subject matter through disruption of content and form, fragmentation of narrative and radical juxtaposition of visual and textual elements." His poems, truly products of postmodern culture, sample: they collect, cut and redistribute pieces of other poems into new configurations. One long work, "Aurora," makes a fragmented, haunting dialogue of pieces of Robert Browning's and Elizabeth Barrett Browning's poems. A significant part of Levato's work is something called cinépoetry, a kind of collaged videographic poetry that does with footage what his other work does with language. Levato also translates, a kind of work vitally connected to his poetic work, which involves so much transformation of extant materials into new forms."—Alli Carlisle, Outsider Institution: the Avant-Garde Pedagogy of the Chicago School of Poetics
"Francesco Levato's powerful documentary, War Rug—like Eliot Weinberger's What I heard about Iraq before it—detains the language of the perpetrators of global military aggression and redeploys it to indict them. From J.C. Penny catalog copy to counterintelligence manuals and autopsy reports, War Rug is a fierce yet unfortunate reminder of the absolute horrors of our age."—Mark Nowak, author of Coal Mountain Elementary
"Levato's Elegy for Dead Languages, while a more baroque and sculpted collection, is also a powerful testament to modernity. Levato traces the blindspots of war, particularly controversial American interventions in the Middle East. Elegy for Dead Languages is an imagistic tour de force, and Levato's unsparing lens is just the sort these subjects deserve and require. The collection's poems seem unduly cerebral only if we forget — as we must never forget — that these are real appendages being torn apart, real pieties being eviscerated, real landscapes being ravaged. Brian Turner has already given us a view of war from the front lines; Levato's perspective is a more distant but also (perhaps in consequence of its distance) an even more comprehensive one. It is right that we should again be troubled by poetry; and it is right that when poetry troubles us it should move us not merely to emotion but to action. Levato's book meets the high standards not only of testament but also — albeit in the sociopolitical, rather than militaristic sense — a call-to-arms. The horrors of war are too easily rendered as Kantian sublimities for which the stateside mind can find no objective correlative; Levato suffuses us, instead, in the facts, figures, and bureaucratic speech out of which real-time horrors are in actuality composed. A necessary and suitably unforgiving book."—Seth Abramson, Huffington Post