Semi-peripheral (3D)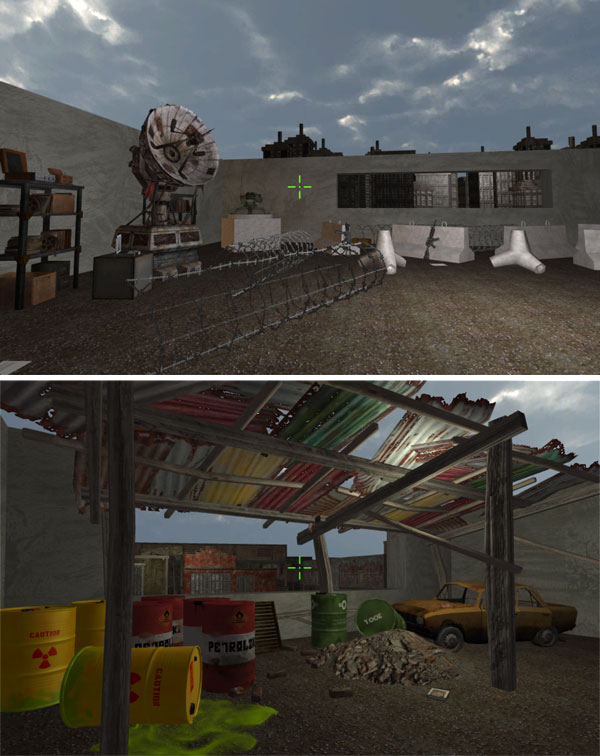 Semi-peripheral (3D), my critical-creative videogame, is concerned with issues of bordering. It is an expansion of my hybrid text, Semi-peripheral: Spaces of Deviation, Abjection, Madness that utilizes a videogame development platform to immerse users in a three-dimensional exploration of the text. The hybrid text itself is a mash-up of critical theory, poetry, and science that examines the works of H.P. Lovecraft as an (other)world-system, through the theoretical frames of world-systems analysis, heterotopic spaces, and abjection. The videogame extends that work into a virtual space that symbolizes a Wallersteinian semi-periphery, and also serves as overlapping heterotopias of deviation and crisis, where incongruous objects are juxtaposed and in tension with both the desire and threat of penetrating borders. Originally conceived as an interactive game-based art installation, the videogame was informed by the work of installation artist Christoph Büchel. Büchel's installations span multiple rooms and floors, and contain thousands of objects whose symbolic juxtapositions are left to be discovered by attendees as they work their way through the installation's sprawl. For Semi-peripheral (3D), I adopted an observational mode of user engagement similar to Büchel's. Users navigate its three-dimensional world from a first-person perspective where they can construct their own narrative by engaging with the various assemblages of symbolic objects and also with the actual texts, which are scattered throughout the environment and which, when picked up, trigger an audio recording of that text. As a crisis heterotopia the main level of the game serves to contain the user, offering glimpses of two other world systems (the Core, developed capitalist economies represented by a cityscape, and the Periphery, developing economies represented as a border town). As a semi-peripheral world system, the main level also contains objects from both the Core and the Periphery. These objects are manipulable in three-dimensional space, and in a future version will serve as keys to accessing and exploring the other world systems. In addition, as Core economies tend to exploit and seek to control both the Periphery and the Semi-periphery, a series of panoptic constructs are in place that keep the player under surveillance, while denying the player the ability to see those keeping surveillance: in the Core room, gun turrets follow the player's movements; and in the sentinel room, attempting to access the "core" door will activate the sentinel, who will then also track the player. The original hybrid text of Semi-peripheral (3D) was published in the journal New Academia, Vol. III Issue I, (2014).


To download Semi-peripheral (3D) for your operating system, see the links below.

Instructions and critical statement download link:
http://francescolevato.com/wp-content/uploads/multimedia/Semi-peripheral-3D_statement-instructions.pdf

Macintosh OSX download link:
http://francescolevato.com/wp-content/uploads/multimedia/Semi-peripheral_3D-mac.zip

Windows 7 download link:
http://francescolevato.com/wp-content/uploads/multimedia/Semi-peripheral_3D-win.zip

Note: unzip the Windows 7 version to your desktop. Make sure to keep both the application (Semi-peripheral (3D) app-win.exe) and the data folder (Semi-peripheral (3D) app-win_Data) in the same directory.


Machines of Dissymmetry
Machines of Dissymmetry, another work of critical media, is an interactive multimedia performance that explores, via the colonizing gaze, the complications of asymmetrical power structures, and how appropriation, as a tactic of resistance, is implicated in the creation of unintended asymmetries of power. The piece consists of multiple digital rhetorical streams, each intended to complicate the interactions and power relationships between audience, speaker, image, and text. These streams are performed live on stage by mixing and projecting real-time audio and video through the use of club VJ software, and consist of: 1) a textual production/poetic sequence of appropriated language collaged together from books examined by David Spurr in his study of the colonizing power of language, The Rhetoric of Empire; 2) a background video layer spliced together from appropriated archival home movies. Those pictured in the films are made visible to our gaze, as viewers, and though visible are silent, and so denied the power to respond; 3) a second video layer, consisting of footage of bone surgery, partially overlays the background video layer and is keyed to the sound of my voice, being made visible only when the poems are spoken. The violence of these images is a visual representation of abjection; and 4) a live audiovisual stream of audience participants, captured via wireless webcam, layered onto all other video streams. Audience participants interrogate me as the speaker/transgressor. I am to be accountable to them, to be made visible to their gaze while being denied the power of the gaze, yet their voices and images are appropriated and subsumed into the live projection, thus denying them a degree of power. Further, as they are forced to look into the webcam I am obscured to them, yet can observe them through the software and the projection; the webcam acts as a blind, and as Spurr notes in The Rhetoric of Empire, "For the observer, sight confers power; for the observed, visibility is a trap."

An archival recording of the performance was published in the journal Technoculture, Volume 4, (2014), and can be viewed below:


Critical Statement and Textual Component can be downloaded from the following link:
http://francescolevato.com/wp-content/uploads/multimedia/Machines_of_Dissymmetry-critical_statement.pdf
War Rug
War Rug is a poetry film that examines abjection and bordering through interwoven narratives of life within zones of conflict as viewed through the lens of current warfare. The film is based on my book-length documentary poem of the same name. The narratives range from passages inspired by journal entries, firsthand accounts, and news reports to poetic constructs collaged from military doctrine, Freedom of Information Act released government documents (like CIA interrogation manuals, and detainee autopsy reports), and numerous other sources. The film collages and juxtaposes archival source material with U.S. Military footage in an exploration of alternative narrative interpretations of the source text. War Rug, the film, was published in Tygerburning, (2010), and the text of the documentary poem was published in excerpted form in numerous journals, and in its entirety in my book Elegy for Dead Languages, Marick Press, (2010).

"Theme for War Rug" by Richard Fammerée including: "Nesfarsit" (Co-written and performed with Alex Hegyesi-music, Dan Zibarov-writer, Mara-voice); "Darweesh il hara skit (Tribute to Mahmoud Darwish)" (Ramallah Underground, "Aswatt" Basel Abbas); "Curfew" (Ibtisam Barakat).

War Rug, the film, can be viewed below:


Variations on Want
Variations on Want is a differential text that exists as a poem sequence, a poetry film, and a multimedia performance. The text represents an inquiry into sexuality and literature with interwoven narratives based on an array of source texts, including Memoirs of Fanny Hill, by John Cleland; Venus in Furs, by Leopold von Sacher-Masoch; The Satyricon, by Petronius Arbiter; The Kama Sutra of Vatsyayana; Studies in the Psychology of Sex by Havelock Ellis; Three Contributions to the Theory of Sex and Dream Psychology, by Sigmund Freud; The New Physics and Its Evolution by Lucien Poincare; Good Housekeeping Institute's The Consumer Viewpoint by Mildred Maddocks; a Kenmore washer instruction manual by Sears, Roebuck and Co.; pharmaceutical drug inserts; Criminal Psychology by Hans Gross; and the Texas Penal Code on Obscenity. The film layers appropriated video from various sources, including 1950's and '60's Americana and vintage erotica, with custom footage in a mash-up where differing transparent film layers are recontextualized and put into dialogue by assemblage. The multimedia performance deconstructs the film to component media elements, including multiple performers/voices, silent film, and a musical score performed by composer Philip Glass, for a live, collaborative, reinterpretation of the text on stage.

Variations on Want, the film, was published in BathHouse Hypermedia Journal (2011), and can be viewed below:


#pxc001: A Twitter-based Collaborative Poem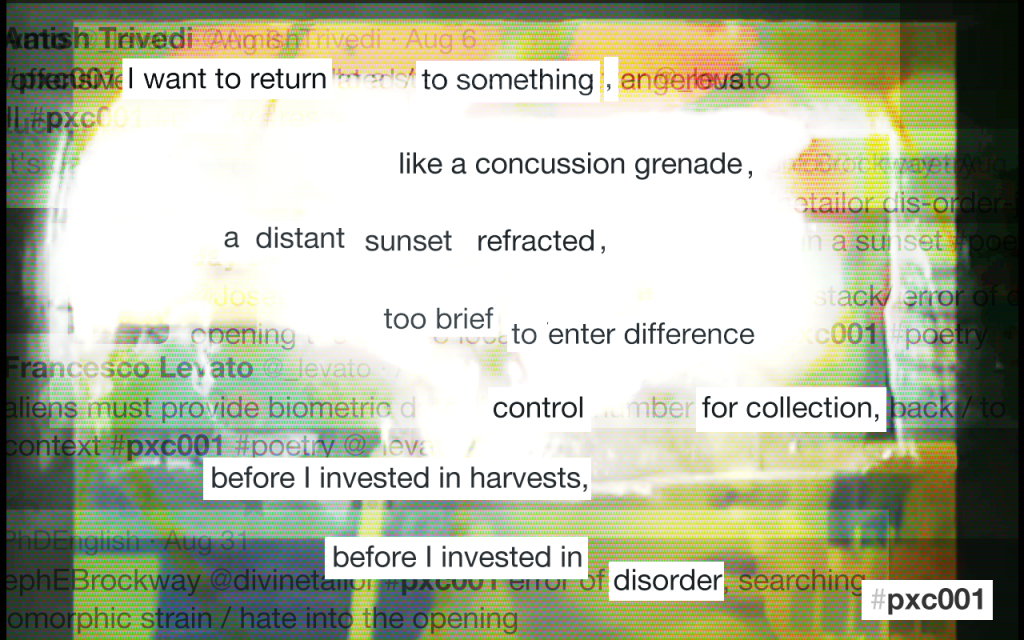 #pxc001 is a collaborative long-form poem that uses Twitter as a writing platform. As a constraint-based system (140 characters, one line at a time), Twitter lends itself to exquisite corpse-like compositions, and #pxc001 intends to extend that work to include appropriated language, chance operations, overwriting participant texts, defacements, collages, and erasures. The project is an experiment in relinquishing control of our language and its construction and use. As such, the way in which the collaboration, and the resulting poem, unfolds is up to each participant. The project takes as inspiration Louis Armand and John Kinsella's Synopticon: a collaborative poetics, a collaborative project written via email exchange between the authors over the course of a 10-year period. In an investigation of authorship and authenticity, Armand and Kinsella engaged in a number of experimental practices when writing the poems, from exquisite corpse-like additive games to radical revisions of each other's texts. #pxc001 was recently featured in Vice's Motherboard (2015).

A live feed of the poem #pxc001 in progress can be viewed on Twitter at #pxc001.


My Sunset Gun
My Sunset Gun is collaged from the novels The Sorry Tale by Patience Worth and To Have and to Hold by Mary Johnston. Patience Worth was an early 1900s writing prodigy who was celebrated for her novels, poetry, and prose. She was considered "A prolific charmer who was known for her flashy verbal stunts and quick wit," but more interestingly, she was a ghost. Her writings, which would issue in a prolific stream, were actually channeled through Pearl Curran using a Ouija board. I found Patience while researching another project and became fascinated with the idea of the invocation of this spirit author, this disembodied voice given somewhat of a physicality through Pearl. I later found out that the name Patience Worth actually comes from a character in the novel "To Have and to Hold" by Mary Johnston which was published thirteen years before the appearance of Patience Worth, the spirit writer. Thinking about this idea of disembodiment/invocation I thought it would be interesting to "invoke" Patience textually through weaving together language from Patience's own novel, The Sorry Tale, and language from Mary Johnston's novel, To Have and to Hold, where the character Patience Worth has her origins. The multimedia performance is an extension of the idea of invocation (with my own disembodied image and voice serving as that being channeled) as well as an unpacking of my poetry films into more dynamic live presentations while maintaining my visual aesthetic.

An archival recording of the performance was published in the journal Certain Circuits (2013), and can be viewed below:


Professional Digital Media Portfolio
Prior to pursuing my PhD I owned a digital media studio and was the lead designer and developer. As such, I have experience with numerous software applications, programming and markup languages, and methodologies associated with digital media design and production, including: Adobe Creative Suite (Photoshop, Illustrator, Dreamweaver, InDesign, Premiere, Flash, etc.); Final Cut Pro; Soundtrack Pro; Logic; Unity (game development platform); Maya; Blender; CoGe (VJ/multimedia performance); HTML/CSS; XML; TEI; MySQL; JavaScript/jQuery; PHP; design, production, and development for web and print; design, production, templating, and customization for content management systems like WordPress and Drupal; database development; 2D and 3D illustration and animation; video and audio recording and production; multimedia performance design and development; and 3D videogame design, programming, and production. Below is a selection of professional projects I have produced for both the academic and commercial spheres.


Tony Fitzpatrick: This Train
I directed, filmed, edited and produced this broadcast trailer for the Steppenwolf Theater production of Chicago Artist Tony Fitzpatrick's This Train. The trailer was featured on television news programs during coverage of the play.


Illinois State University Writing Program
I designed and developed a highly customized WordPress website for the Writing Program at Illinois State University which, in addition to custom plugins, included: a writing tutor scheduling system; writing tutor session notes system (to log tutoring session notes to the website's database for review by Writing Program Administrators); a composition instructor notes system (for use by students to access notes from their instructors); a custom survey system (for use in program-wide assessment and professional development); a podcasting system (for the program's podcast series); a custom wiki system (for internal use); a blogging system (including custom tag-related features); a custom discussion forum (for classroom use, which also feeds into the program blog); an online publishing system for the program's journal, the Grassroots Writing and Research Journal (where students can locate and download articles based on core concepts from the program); and a social media system (with auto-posting to various social media outlets). Each of these systems required customizations across multiple WordPress core functions, as well as user-related customizations (for roles, restrictions, dashboard functions, and custom widgets). The website can be viewed online, here: http://www.isuwriting.com.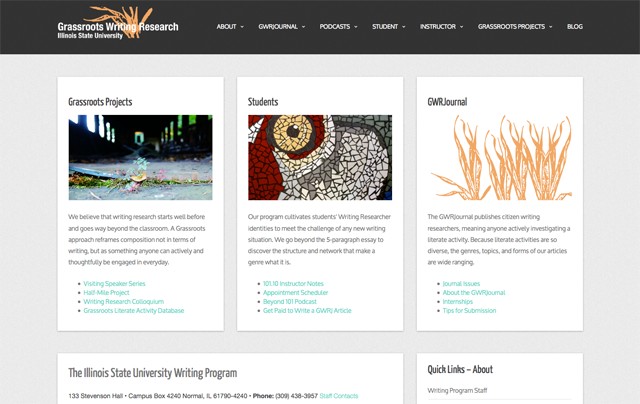 Digital Defoe: Studies in Defoe & His Contemporaries
The online digital humanities journal, Digital Defoe, was originally published in a static, hand-coded HTML format, which I converted to a highly customized WordPress website. The process involved: creating a WordPress theme based on the journal's original design; developing custom post types, display modes, and widgets to accommodate article features like custom jQuery-driven navigation systems and multimedia content; and auto-generated issue content pages (to ease issue production for editors without web design experience). The website can be viewed online, here: http://digitaldefoe.org/.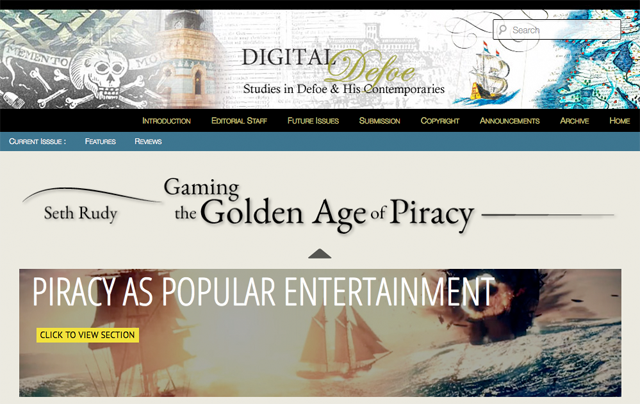 Marick Press
When Marick Press accepted my book, Elegy for Dead Languages, for publication I asked if I could design the cover, as I had a specific image of it in mind (and I also had the technical ability to do so). The press was taken with my design and later invited (and contracted) me to design and produce a series of upcoming books for them (cover design, interior design, and print production). A selection of the books appears in the image below, and others can be found in their catalog, here: http://www.marickpress.com/online-catalog/books.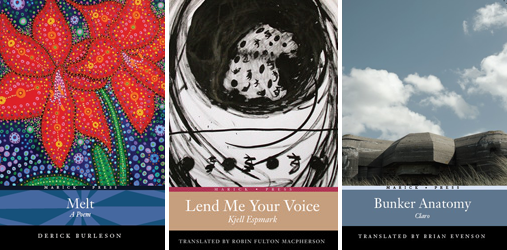 Dalkey Archive Press
For the independent literary publisher, Dalkey Archive Press, I designed and developed a WordPress-based e-commerce system to host Dalkey's extensive catalog of avant-garde literature in translation. This required: a complete re-design of the original website; developing custom post types, display modes, and widgets to accommodate a number of publications and publication formats; an integrated e-commerce system; and porting over 10 years of legacy content to the new website. The website can be viewed online, here: http://www.dalkeyarchive.com/.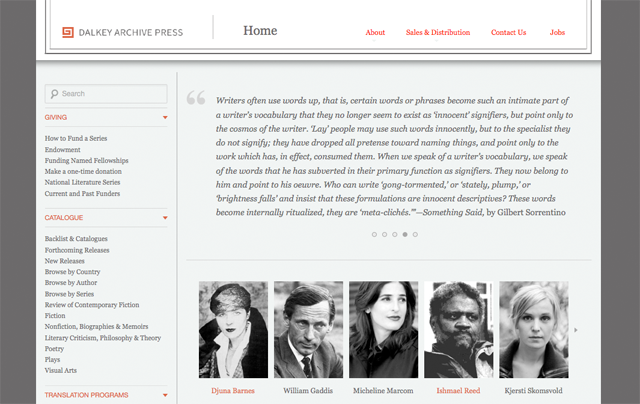 Poetics List 2.0
When it was announced that the Buffalo Poetics List was shutting down, list members responded with a desire for the list to continue in a new form. After some discussion about what this new form might be, it was decided to incorporate the various ideas presented into the new Poetics List 2.0 at the Chicago School of Poetics. The result is a community-based website that incorporates a traditional email listserv, a discussion board, and integrated social media outlets (these different modes were designed to address the various ways list users prefer to interact with their online communities). This required customizations across multiple WordPress core functions, as well as user-related customizations (for roles, restrictions, dashboard functions), and custom widget and plugin development. The website can be viewed online, here: http://poeticslist.chicagoschoolofpoetics.com/.